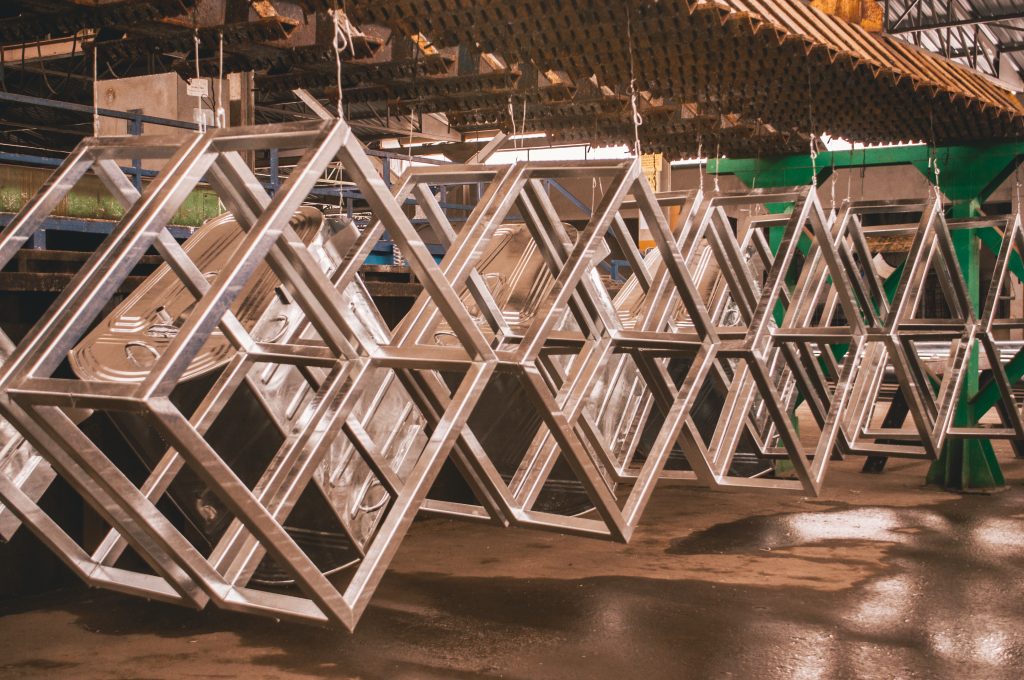 Zinc-rich primers are a great choice if your steel asset is going to be in a corrosive environment— for example, a marine setting.
So why, exactly, are zinc-rich primers so effective at staving off corrosion, and what are the best zinc-rich primers on the market for your needs? Let's briefly address that first question, and then make some expert recommendations below.
What are zinc-rich primers and how do they work?
Zinc is an electrically "active" metal— much more so than steel. So when a zinc-rich primer comes into contact with a corrosion-triggering electrolyte like moisture, the zinc acts as the anode, becoming corroded instead of the steel.
That's why galvanic coating systems like zinc-rich primers are called "sacrificial" systems — the zinc basically sacrifices itself to protect whatever it's applied to. Magnesium and aluminum coatings work the same way, sacrificing themselves to protect the substrate.
While they provide excellent protection, you can probably see the complication here. The whole point of a zinc-rich primer is to corrode — meaning sooner or later, you'll have to reapply it.
Keep this point in mind as you read the next section about organic and inorganic zinc-rich primers.
Inorganic vs. organic zinc-rich primers
These two types of zinc-rich coatings are defined by their binder; inorganic ones typically use a silicate binder, while organic ones use a variety of binders that can include polyurethane, alkyd, and epoxy.
In general, inorganic zinc-rich coatings provide better galvanic protection than organic ones for a couple reasons. Because of its reactivity, a silicate binder holds more zinc than an organic binder, and that higher concentration of zinc translates to more protection over a longer lifespan.
However, inorganic zinc-rich coatings also come with a few significant drawbacks. They're more difficult to apply, and because of that are usually applied in the shop as opposed to in the field. They also require more surface preparation — ideally, a somewhat labor-intensive near-white blast cleaned surface, though some can work on standard commercial blast surfaces.
Inorganic zinc-rich coatings are also porous, which can complicate topcoating, and they need to be cured.
Organic zinc-rich coatings, on the other hand, are pretty simple to apply. Typically, they're applied in the field, and no specially skilled applicators are needed. Organic coatings are also much less porous, making topcoating a straightforward matter. And they're less susceptible to post-application problems like mud cracking and dry spray.
When inorganic zinc-rich coatings wear down, they're usually repaired by applying an organic zinc-rich coating right on top, since the inorganic coatings don't adhere well to each other, and are otherwise tough to apply.
The bottom line? Even though inorganic coatings perform better by many measures, a lot of managers are opting for organic coatings for their superior ease of use.
If you're not sure what coating meets your specific needs, CDN Paint can connect you with a top rated coatings professional who specializes in zinc-rich coatings of all types, and can help you make the right choice.
Zinc coating vs. galvanizing
A point that's often missed in the inorganic zinc-rich coating versus galvanizing debate is that they're both technically zinc-rich coatings.
However, in the case of the inorganic zinc-rich coating, the zinc particles are in a silicate binder, which makes them much less reactive. Galvanizing is a metallic coating in which the zinc is bonded to the substrate with an amalgam of zinc and iron. It's not simply a coating that's applied over the substrate – it becomes part of the substrate itself.
As a result, galvanizing is much more reactive, as the zinc isn't buffered by any kind of inert binder. That means they have a much shorter lifespan than an inorganic zinc-rich coating — especially in highly corrosive environments.
And while galvanized surfaces present a softer and more adaptable zinc coating, inorganic coatings, with their rigid finishes, offer much more protection from abrasion and impacts.
Let's quickly review the pros and cons of inorganic zinc-rich coatings versus galvanizing.
Inorganic zinc-rich coatings
| | |
| --- | --- |
| Pros | Cons |
| Rigid surface offers more protection from abrasion | May require specially-skilled applicators |
| Less reactivity = longer lifespan | Difficult to repair |
| | Surfaces need to be extensively prepped |
Galvanizing
| | |
| --- | --- |
| Pros | Cons |
| More malleable surface | Very reactive |
| Excellent corrosion resistance | Relatively short lifespan |
The best zinc-rich primers to consider in 2021
So with all that in mind, what are the best zinc-rich primers on the market? Here are some of our picks.
Sherwin Williams Zinc Clad 4700
A favorite of the oil and gas industry, as well as civilian infrastructure, this zinc epoxy primer offers excellent performance at optimized zinc loads as well as fast drying — as fast as 20 minutes to touch, and 12 hours to handle.
See this coating's data sheet here.
Sherwin Williams Zinc Clad 4100
When applied to properly prepared steel, this three-component organic polyamide zinc epoxy offers a dried film containing 89.2% zinc dust pigment by weight. Popular for bridges and highways, power production, and wastewater facilities, this film also exhibits self-healing qualities when damaged.
See this coating's data sheet here.
Rust-oleum System Zinc Chromate Primers
This modified alkyd primer is a very effective rust inhibitor that can be applied to clean, pained, or even lightly rusted surfaces. It comes with a two-year rust-proof guarantee, and meets USDA standards for incidental food contact.
See this coating's data sheet here.
Carboline Carbozinc 859
This low VOC organic zinc epoxy primer is versatile enough to be used in nearly all industrial markets. The Carbozinc 859 boasts fast turnaround requirements in the field, and very fast cure-to-topcoat times for in-shop application, making it a great choice if you're working on a compressed timeline.
See this coating's data sheet here.
Want advice from a trusted expert? CDN Paint can connect you with a top rated coatings professional who specializes in zinc-rich coatings of all types, and can help you make the right choice.