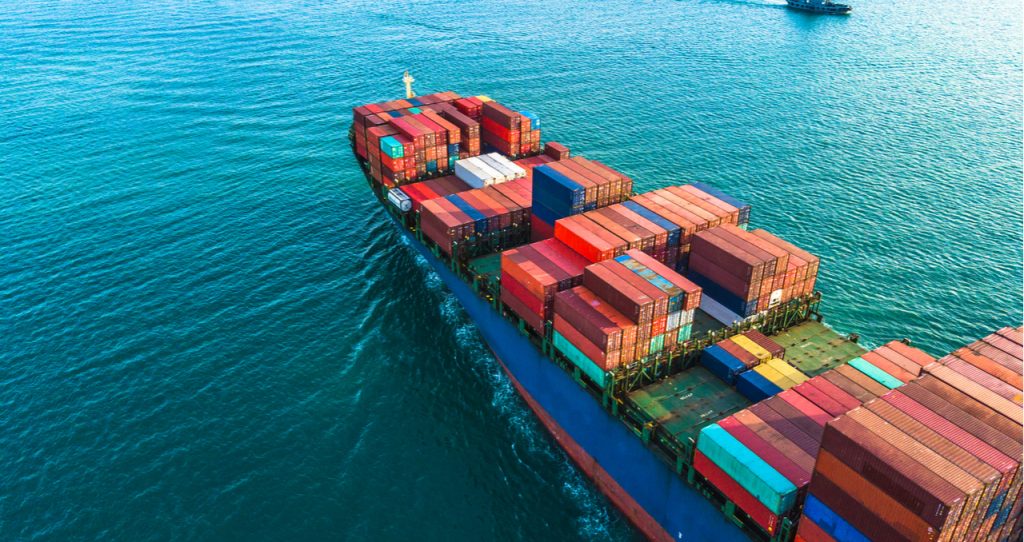 Table of Contents
The Different Types of Marine Coatings
What is Marine Paint?
Marine paints are coatings used for commercial ships, barges, boats, tankers, cruise lines, and other submerged assets. These coatings are also used in non-commercial applications like sailboats and small schooners.
For the purposes of this article, we'll be focused on coatings designed for industrial vessels.
From cosmetic finishes to all-in-one epoxies and antifouling solutions, we've found the best marine paint suppliers that distribute to the United States.
In this guide, we'll take you through each of the top three coating suppliers marine paint offerings. We'll figure out which company is right for you by analyzing the most popular engineered marine coatings these companies offer.
The Different Types of Marine Coatings
While there are many different types of marine coatings available, most marine paints are specifically designed for the bottom of vessels. Ship bottoms attract various microorganisms that attach to the hull and slowly eat away at the steel.
Biofouling occurs when microorganisms attach to the bottom of ships and other underwater assets and multiply. According to Science Direct, "The effects of biofouling costs marine, shipping, and other global industries billions of dollars every year." Finding the right coating to combat biofouling and corrosion is imperative for fleet owners and managers.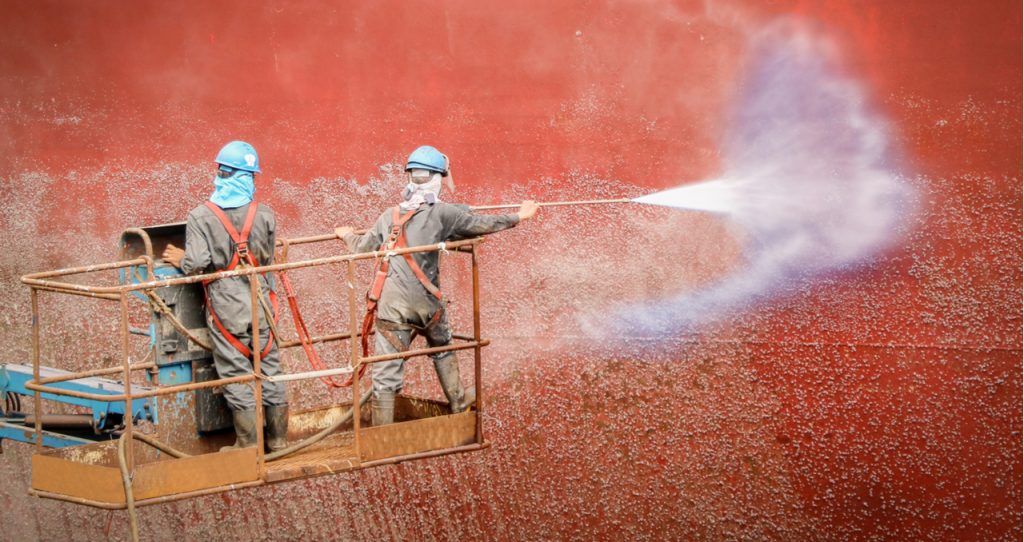 There are three types of "boat bottom coatings" worth looking at.
Biocidal antifouling coatings: Coatings designed to prevent marine organisms from accumulating on the hull of a ship or other submerged structure that kill microorganisms with toxic chemicals.
Foul release coatings: Coatings that create a slick surface that makes it difficult for microorganisms to attach to the bottom of your vessel or asset.
Self-polishing / self-cleaning coatings: Coatings that release a biocide while also renewing paint film over the lifetime of the coating.
Which type of antifouling coat is right for you?
Antifouling coating is a catch-all term for coatings that prevent microorganisms and marine life from sticking to the bottom of ships, but they're generally broken down into biocidal coatings and foul release coatings.
Biocidal coatings kill organisms that come into contact with the ship through toxicity, while foul release coatings create a slick, slimy film that makes it difficult for organisms to latch on to. However, the slime film produced from foul release coatings increases drag and fuel consumption for many waterborne vessels, according to Science Direct.
The increased fuel consumption of foul release coatings makes them unattractive to many coating professionals and engineers, but they are an environmentally conscious option for stationary submerged assets.
The bottom line: You should speak with a marine coating expert before choosing on an antifouling coating.
Other types of marine coatings worth considering
Of course, a ship is more than its hull. Other assets that need to be maintained include:
Decks
Cargo holds
Cargo and water tanks
Hand railings
Bow
Bridge
Ladders
All of these assets need to be maintained with anticorrosion coatings. Marine anti-corrosion coatings, whether for inland or intercoastal vessels, have a few requirements:
Marine paint should be corrosion resistant
Marine paint should be abrasion resistant for rough waters
Marine paint should have UV protection against the hot sun
You should always consider these three factors when purchasing paint for a boat, underwater asset, or submerged structure. However, different situations require different coatings. For example, a seafaring yacht requires a different coating than an inland barge.
Top Three Marine Paint Suppliers
The top marine paint companies include:
International Marine
PPG Marine
Sherwin Williams Marine
Let's start by looking at International Marine and their primary product offerings.
International Marine Paints
International is a brand within AkzoNobel, a Dutch multinational company that supplies paints and performance coatings across a wide variety of industries. International Marine, a division within International, offers an equally wide variety of marine coatings for:
Abrasion resistant and cargo holds
Antifouling
Cargo tanks
Cosmetic finishes
Foul release
Decks
Potable and water ballast tanks
Their most popular products include:
What we like about International's marine products
International Marine is friendly to new users. They offer application guidelines for many of their coating systems here, as well as SDS sheets for their entire product line here.
They provide dozens of actionable case studies. The International Marine website is packed with articles about their most popular product lines. You can use these case studies to figure out if a similar application would be appropriate for your assets.
PPG Marine
PPG is a fortune 500 company and a major player in the marine coating industry. PPG operates in more than 70 countries and distributes across the global – so it's no surprise the coating giant made it on our list.
PPG offers marine coating systems primarily for:
New ship builds
Dry docking
Inland marine vessels
Cargo tanks
Antifouling
We're going to focus on their new ship build coatings, dry docking (i.e. marine maintenance systems), and inland marine vessel coatings.
Marine coatings for new ship builds
For new ship builds, PPG's SIGMA product line offers maximum corrosion protection. PPG's website recommends the following coatings for new builds.
SIGMACOVER 380: A universal anticorrosive epoxy primer and coating specifically designed to meet PSPC guidelines
SIGMAPRIME 700: A premium primer designed for long term protection
SIGMA SAILADVANCE RX: An antifouling coating designed for all vessel types that can be used for both new builds and dry docking
Marine coatings for dry docking
Dry docking involves docking a vessel on land for repairs and maintenance, so these paints are often considered "marine maintenance coatings." PPG's website recommends the following coatings for dry docking maintenance.
PPG SIGMA SAILADVANCE GX: A low friction, self-lubricating antifouling coating that's aimed at reducing energy and overall operational costs
PPG SIGMA ECOFLEET 270: A self-polishing antifouling paint for deep sea and coastal vessels
PPG SIGMAGLIDE 1290: A 100% pure silicone binder finish designed for foul resistance and release performance, while also offering low fuel consumption
Coatings for inland marine vessels
Inland marine coatings are fundamentally different from coatings intended for coastal vessels because there is no salt acting as a corrosion agent. PPG Marine offers over 80 inland marine products, but they highlight three products on their website that are particularly noteworthy.
PPG NOVAGUARD 810 ER: A two-component, solvent-free, novolac phenolic epoxy coating that offers rapid cure times at below freezing temperatures
PPG VIKOTE 42 PRO: A flexible, fast drying vinyl coating designed for the hulls of ships
PPG SIGMASHIELD 880: Unlike other coatings on our list, SIGMASHIELD is designed for offshore drilling decks, walkways, and topsides
What we like about PPG Marine
Huge variety of coatings. For engineers and facility managers that know what they're looking for, PPG Marine offers a huge selection of marine coating systems. While this can be overwhelming to some users, seasoned veterans will enjoy the options PPG provides.
Top-of-the-line antifouling coatings. Many antifouling coatings come at the cost of fuel efficiency due to increased drag, or harmful biocides that kill sea life. PPG's antifouling and fouling release coatings focus on asset protection as well as vessel fuel consumption and speed performance.
Sherwin Williams Marine
Sherwin Williams is the largest industrial paint supplier in the world, generating over $17.6 billion in annual revenue. While they're known for the consumer facing side of their business, Sherwin Williams also has a diverse product line of marine coating systems.
In particular, Sherwin Williams specializes in marine paints for:
Coastal marine vessels
Inland marine vessels
Let's take a look at the most popular products within each division of Sherwin Williams.
Sherwin Williams coatings for coastal marine vessels
Sherwin Williams offers over 70 coatings for coastal marine vessels. Popular options include:
Seaguard Ablative Antifoulant: A single-component antifouling coating recommended for underwater steel surfaces operating on coastal and oceanic waters
Seaguard 5000 HS: A high-performance high solids epoxy designed for non-potable water tanks and other marine applications
Fast-Clad Zinc HS: A zinc-rich primer used to protect steel in industrial and marine environments
You can view Sherwin Williams' entire commercial marine product line here.
Sherwin Williams coatings for inland marine vessels
Sherwin Williams has over 60 products for inland marine vessels. They also claim to have more inland river and coastal locations than any other coating manufacturer, meaning they can deliver to your facilities quicker than the competition.
Environmental and VOC regulations are important when considering an inland marine coating.
Popular inland marine coatings from Sherwin Williams include:
Seavoyage Copper Free Antifoulant: A single-component ablative antifouling coating that's VOC compliant and uses biocides that don't persist in the environment
Envirolastic 940 LV: A direct-to-metal polyaspartic coating that's ideal for maintenance and new construction
Targuard: Coal tar epoxy used for non-potable water applications and other steel structures.
You can view Sherwin Williams' entire inland marine product line here.
What we like about Sherwin Williams Marine
A focus on compliance. Sherwin Williams markets itself as a one-stop shop for the U.S. Navy and works closely to build relationships with the government. They understand the environmental and safety regulations governing the marine coating industry.
A diverse and vibrant color library. Sherwin Williams offers marine coatings in a variety of colors that many manufacturers don't offer. The color selection is an appealing option for fleet owners looking for uniformity. 

Putting it all together: If you're serious about protecting your waterborne assets, you need to consult a marine coating expert. We've partnered with the top-rated coating manufacturers and can connect you with an industrial coatings pro today. Get started by filling out this quick form.