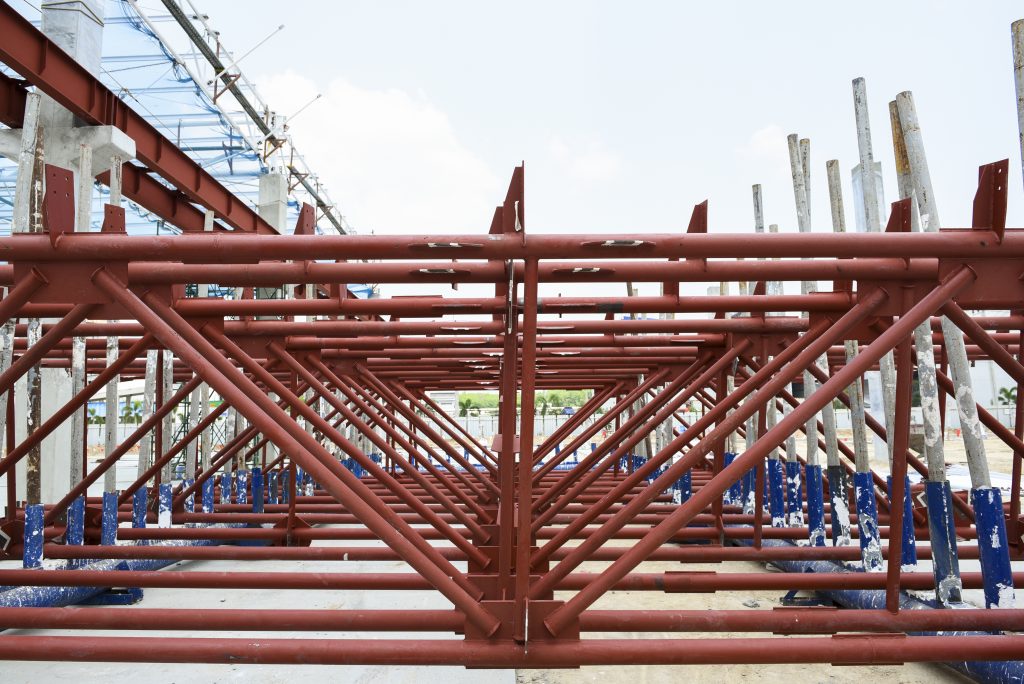 When it comes to passive fire resistance measures, intumescent paints are hard to beat. Aesthetically pleasing, cost-efficient and — most importantly — super effective, intumescent paint is, hands down, one of the best ways to protect your steel or wood structure from fire.
Let's look at how intumescent paint works, how much it costs (and why), touch on specific fire ratings, and look at some specialized intumescent coatings.
What is intumescent paint?
Intumescent paint is a fire resistant coating that expands when it comes into contact with fire. In this case, what appears to be a conventional paint is actually a mixture of chemicals held in a binder.
When fire breaks out, the binder melts, and the chemicals begin to react with each other. This chemical reaction creates a foam, and the intumescent paint begins to expand, typically becoming 25-50 times thicker than its original state.
This thick chemical foam soon hardens into a solid insulating material called "char." This layer of char protects the substrate — the material coated by the intumescent paint — from heat. When it's applied to steel, it can prevent that steel from buckling or warping due to heat.
It's an elegant solution to a serious problem, and it represents a significant advance over the previous generation of fire resistance measures. Older fireproofing solutions — like cementitious paint, which we'll touch on in the next section — were bulky and unsightly. One of intumescent paint's biggest advantages is that it offers the same protection and looks like, well, paint.
Intumescent paint vs. lightweight cementitious
One of the most popular alternatives to intumescent paint is cementitious paint. Cementitious paint is essentially a lightweight, scaled-down form of concrete.
Concrete has always been known as one of the most fire-resistant building materials, and it's very cost-effective. Unfortunately, it's not easy to use. Concrete is extremely heavy, so it requires a lot of heavy steel structure for support, and application is labor-intensive.
Cementitious paint addresses some of these drawbacks. Since it's so much lighter than conventional concrete, it doesn't require so much underlying steel. But it requires several successive coats to be effective, which makes it nearly as labor-intensive (and expensive) as dense concrete.
It also comes with its own unique flaws. When cementitious coatings dry, they leave tiny spaces between the coating itself and the substrate. When moisture accumulates in these spaces, it corrodes the substrate. Ironically, cementitious coatings can sometimes end up hastening the decay of the substrate they're supposed to be protecting.
On top of that, cementitious coatings are great protection against fire— but after the fire, they tend to crack as they rapidly cool. Cracked coatings aren't adequately protective, and will need to be reapplied. For all those reasons and more, industry is increasingly transitioning towards intumescent coatings.
If it all sounds a bit confusing, that's understandable. If you're trying to figure out how to protect your asset from the threat of fire, CDN Paint can connect you with a top-rate coatings professional who can answer all your questions about fire resistant coatings.
How much does intumescent paint cost?
Intumescent paint offers world-class fire protection, but it isn't cheap. Overall, the cost of intumescent coatings generally falls between $4 – $12 per square foot.
That's a huge range – how much each galleon costs is going to depend on a variety of factors. The chart below touches briefly on each factor, and in the following section we go into more detail.
| | |
| --- | --- |
| Coating thickness | A thicker coating requires more paint. |
| Adhesion | The best coatings strongly adhere to the substrate, providing stronger protection — and are more costly. |
| Required surface preparation | Many coatings require surface prep, which can be labor intensive. |
| Environmental resistance | Environmental factors can quickly break down your coatings, a process which can be mitigated by a protective topcoat |
| Expansion ratio | How much insulation you need from the expanded coating will dictate how much coating you'll have to apply |
| High solids | Coatings made with low levels of solvents are more costly |

Coating thickness
The thicker an intumescent coating, the more protection it'll give, over a longer period of time. Coating thicknesses typically range from 0.8 to 13 millimeters, and are usually determined by product specifications and local building codes.
By the same token, the thicker the coating, the more product you have to apply. A thicker coating equals more protection — but it costs more money, too.
Adhesion
Adhesion is a measure of how well an intumescent coating sticks to whatever it's coating. After all, an intumescent coating that easily falls or peels off its substrate isn't going to provide much protection when the heat gets turned up. 
Adhesion is commonly tested in two ways; the tape test involves using a certain kind of tape to pull the coating off the substrate, while the pull-off adhesion test uses a steel dolly to pull a coating off the substrate until the bond fails. The more force it takes, the better the adhesion; the better the adhesion, the higher quality (and higher-priced) the coating.
We should note that a huge influence on coating adhesion is the climate at the time of application. Factors like air temperature, relative humidity, and dew point when the coating goes on all have huge impacts on the coating's quality. Always consult manufacturer specifications (and the weather report) when you're deciding when to apply an intumescent coating.
Required surface preparation
You don't put intumescent coatings directly onto the steel you're aiming to protect; they usually go onto an epoxy- or acrylic- or vinyl-based primer that allows for better adhesion. And before you can put that primer down, you often have to prepare the steel surface, usually with some kind of sand blasting, soda blasting, or other surface preparation technique.
That takes labor, which equals money.
Environmental resistance
Intumescent coatings can degrade with exposure to the elements. Studies have found that exposure to moisture can leach flame-retardant additives, and exposure to UV light can degrade the coating to the point that it changes its chemical composition.
How exposed to the elements your coating is going to be, and what level of performance you have to maintain are going to determine how often you need to repair or reapply your coatings. A protective topcoat will also add to your expenses.
Expansion ratio
This factor is related to the thickness of the coating, but refers to how much expansion you need when the coating is triggered by heat. A typical expansion ratio is 1:50 — e.g., a 1mm coating will expand to 50mm.
Using this ratio as an example, if you needed a 100mm protective char, you'd need to apply 2mm of initial coating — which would, of course, cost twice as much as a 1mm coating. Or, you'd need a coating that has a 1:100 expansion ratio.
Either way, the smaller the expansion ratio (1/50 vs. 1/100), the more you'll pay.
High solids
As environmental standards have tightened up, thick film, high solids intumescent coatings — which emit very low levels of VOCs — have become more popular.
High solids coatings have lower levels of conventional solvents in them, and VOCs are created as paint dries and those conventional solvents evaporate. However, since high solids coatings are less diluted by solvents, they're also more expensive.
Fire ratings
The two most important fire ratings for intumescent coatings are ASTM E84 and ASTM E119.
ASTM E84 covers flame-spread classification— in other words, how fast fire travels across a material, and how much smoke it produces. Depending on how it performs under tests, materials receive a Class 1, 2 or 3 rating.
Intumescent paints generally perform at the highest level, or Class A.
ASTM E119 deals with how long an asset can withstand fire before collapse. Intumescent coatings are usually used in settings that require 30, 60, or 90 minutes of fire resistance, though some intumescent coatings can offer a full 120 minutes. 
Not sure which ATSM standards you need to meet? CDN Paint connects you with top-rated coatings professionals that consult directly with you.
Intumescent paint for steel
For steel, low- or zero-VOC waterborne acrylic coatings make up a big part of the market. Two-component epoxy and polyurethane are also popular choices.
In general, epoxy coatings are considered more durable and nicer-looking than the waterborne acrylics, which require longer drying times.
Whichever coating you choose, keep in mind that high solids intumescent coatings can convey surface imperfections in the steel— resulting in the dreaded "orange peel" finish. If you want a smoother finish, you'll likely need a topcoat.