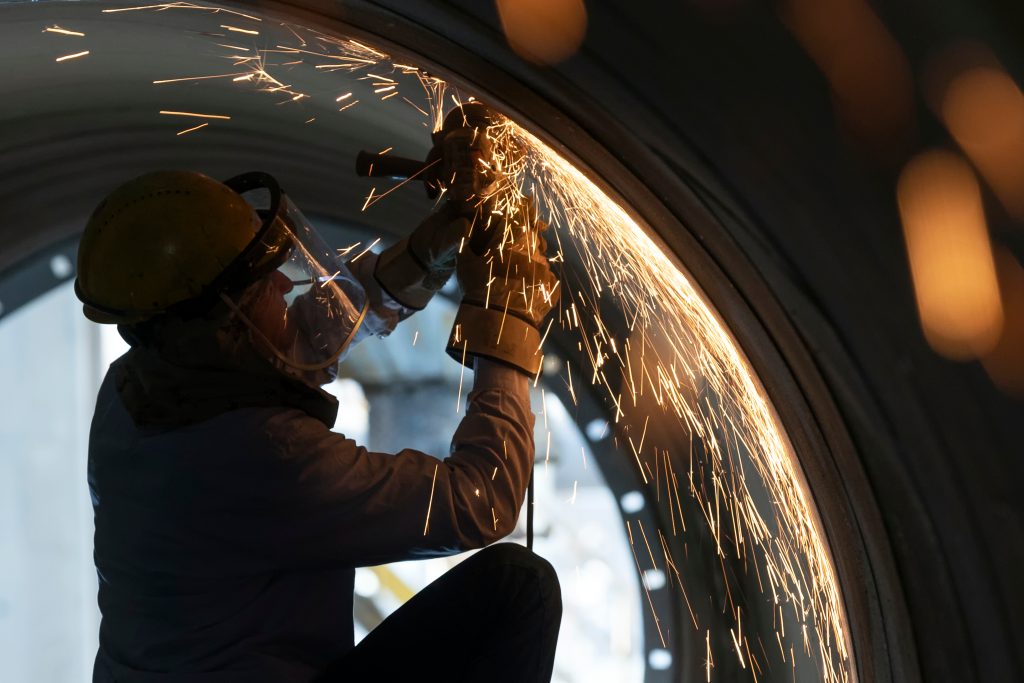 Abrasion and other wear caused by rubbing, impact, and friction damages your assets. Abrasion happens when one surface meets another and the friction between them rubs away material. That loss of material can compromise your asset's performance over time. Also, scratched surfaces may be more susceptible to corrosion when an underlying substrate is exposed to corrosive agents.
Applications for wear-resistant coatings
Wear-resistant or abrasion-resistant coatings are used on many components.
Gears are a familiar example. Whether steel or plastic, whether used in an industrial assembly or a consumer product, gear teeth are vulnerable to wear as they mesh with other components. Both metal and plastic gears may be coated to resist wear and lengthen service life.
It is also common to use wear-resistant coatings on:
Optical lenses
Automobile windows
Pipe or tank linings
Floors
Decks
Bridge structures
Basically, any application that's battered over time – whether from foot traffic, weather, dirt, or mechanical wear – might need an abrasion-resistant coating to avoid corrosion or damage.
Benefits of wear resistant coatings
When you have a component that may be subject to wear, treating it with an abrasion-resistant coating will give you:
Better performance of the entire assembly
Longer equipment life since components last longer
Less required maintenance
Lower costs over the lifetime of the asset
If you have a surface in your facility that is subject to wear, like a floor or deck, the right coating will provide:
Slip resistance that minimizes injuries
Durability and longer life
Easier cleaning since dirt does not get ground in
Impact resistance
Specifying wear-resistant coatings
From the gears in a machine to plastic automotive components to the factory floor, it often falls to the design engineer or facility manager to find an abrasion-resistant coating that protects surfaces from a variety of stresses.
While it can be complicated to find the right abrasion-resistant coating for your application, it usually comes down to the following factors:
The material to be coated
The environment
How the asset is used
Desired life
Cost parameters — both initial cost and lifespan cost
This article provides an overview of the types of abrasion-resistant coatings for steel and plastic substrates. For assistance with your specific application, please contact CDN Paint. We can connect you with a top-rated coatings professional that specializes in wear-resistant coatings.
Below, we'll provide a brief overview of the most popular types of wear-resistant coatings for steel and plastics. Your final coating selection should be made after consulting with an industrial coatings professional.
Abrasion-resistant coatings for steel
Polyurethane
Summary: Polyurethanes are a type of thermoset material that are softer and more elastic than epoxy. Polyurethane is usually more "springy," allowing for objects to bounce rather than crack the polyurethane material. They can still maintain their shape in extremely high and low temperatures, due to their thermoset nature.
Benefits
High gloss
Good color retention
Customizable
Abrasion resistance
Good corrosion control
Versatile
Applications
Protection of steel and concrete substrates on bridges
Storage tanks
Barges
Refineries
Petrochemical plants
High traffic commercial floors
Epoxies
Summary: Epoxy is another thermosetting material (i.e. it burns rather than melts when heat is applied) with two distinct parts: a resin and a hardening agent. They are harder and more rigid than polyurethanes, but also have strong chemical resistance.
Benefits
Wear resistant
Corrosion resistant
Good adhesion to many substrates
Chemical resistance
Applications
Used in a wide variety of industries
Often used in marine environments
100 percent solids formulas perform well as interior tank linings
Low to medium traffic industrial floors
Polysiloxanes
Summary: Polysiloxanes are a blend of organic, epoxy-based, and inorganic systems. These coatings maintain their color and gloss characteristics even in high UV situations. They're also hydrophobic, meaning moisture will bead up and roll off the coating.
Benefits
Excellent wear and corrosion resistance
Hydrophobic
Retain color and gloss without fading or chalking
High UV resistance
Lower VOCs than polyurethane
Applications
Bridges
Piping in water and wastewater treatment
Marine markets
Storage tanks
Smokestacks
Insulating pipe
Abrasion-resistant coatings for plastics
Xylan®
Summary: Dry-film lubricants with desirable secondary properties. Can be combined with high-temperature organic polymers. Stand up to heavy loads, at high temperatures, in chemical and corrosive environments, and combinations thereof. Referred to as extreme performance coatings. Commonly applied in thin films.
Benefits
Low friction
Wear resistance even under extreme pressures.
Corrosion and chemical resistance
Weather resistance against sunlight, salt water and road chemicals.
Wide temperature operating range:
Flexible curing schedule
Wide color range
Pliabile
Machinable
Excellent adhesion: to most metals, plastics, ceramics, wood.
Applications
Fasteners,
OEM components
Ryton® PPS
Summary: PPS is a polymer with stable chemical bonds that give it great molecular stability toward thermal degradation and chemical reactivity. Because of its molecular structure, PPS is inherently flame retardant. As well as being wear and chemical resistant.
Benefits
Combination of long-term and short-term thermal stability
High modulus and creep resistance
Resistance to aggressive chemical environments
Precision molding to tight tolerances
Non-flammability
Stable dielectric and insulating properties
Applications
Automotive – water pump impellers, thermostat holder, electric brakes, fuel injection systems and coolant systems.
Chemical processing – molds, driers, valves, stirrers, gears and reactor linings.
Commercial cookware – fry pan handles, toaster, microwave ovens, etc.
Industrial – machine construction, oil & gas and HVAC industries.
DYKOR® PVDF
Summary: A thermoplastic fluoropolymer good for baked-on lining applications. A chemical-resistant thick film barrier coating. Corrosion-resistant and unaffected by most chemicals and solvents. Has excellent wear and abrasion resistance. PVDF also has high dielectric strength, excellent resistance to weathering, and the ability to self-extinguish.
Benefits
Weather resistant
UV resistant
Radiation resistant
Good thermomechanical properties
High tensile strength
High mechanical strength
Low water absorption
Flame resistant; can self-extinguish
Applications
Semiconductor,
Medical
Chemical processing industries
Piping
Summary: Copolymer made of ethylene and chlorotrifluoroethylene. Excellent chemical protection and barrier properties. Resistant to many harsh chemicals up to 300°F. A flexible material with solid processability. Excellent electrical properties and thermal stability.
Benefits
Chemical resistance
Strong thermal properties
Corrosion resistance
Permeation resistance
Fame resistance
High purity
Smooth surface
Applications
Lining in anti-corrosion applications like piping for petrochemical processing and wastewater treatment
Storage container linings
Pharmaceuticals industry: centrifuges, filters, and other equipment
TEFLON®
Summary: Often used for its non-stick properties. Many formulations. Can be applied to a variety of substrate materials. Combines heat resistance and dielectric strength, and a low coefficient of friction.
Benefits
Wide range of formulations for many substrates
Low coefficient of friction
Applications
Automotive components,
Consumer electronics
Industrial components
TSP DURAVUE®
Summary: Hard coatings that combine silicone-based abrasion resistance with optical clarity, resistance to chemicals, and stability during UV light exposure.
Benefits
Wear resistant
Optical clarity
UV resistance
Chemical resistance
Resists yellowing
Applications
Architectural glazing
Vehicle glazing
Outdoor signage
Safety & security windows
Military & bullet-resistant glazing
Prison and detention glazing
Instrument and gauge lenses
NANOMYTE®
Summary: Two versatile options: one a thermally cured, 2-component coating and the other a room temperature cure, single-component coating. Can be applied to metal, plastic, ceramic, wood, and composites.
Benefits
Optically transparent
Excellent abrasion/scratch resistance
Applied using standard coating processes, including dip-coating, spray coating, spin-coating, gravure, and reverse gravure
Applications
Ophthalmic & sportswear lenses,
Automobile and airplane windows
3D printed parts.
Find an abrasion-resistant coating supplier
As you can tell, there are a lot of coatings available that are resistant to abrasion and wear! Finding the right coating can be tricky, but CDN Paint makes it easy. Reach out today to get a recommendation from a top-rated expert.