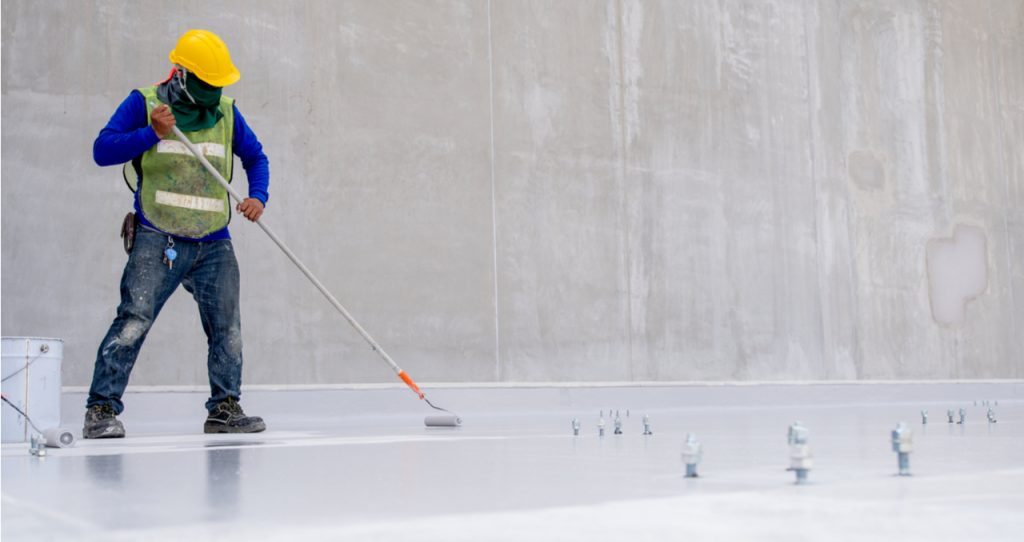 100% solids epoxy products are great options for industrial coating contractors, facility managers, and engineers that need to comply with EPA regulations. 100% solids epoxy offers a low VOC, EPA-compliant solution – but what you might not realize is that these coatings also provide superior performance over high solvent, low solids coatings.
Read on to learn whether 100% solids epoxy coatings are right for your business.
What is 100% Solids Epoxy?
Simply put, 100% solids epoxy is a long-lasting and reliable solution for a variety of industrial applications. Let's break this down into two parts: epoxy and 100% solids.
Epoxy
Epoxy is a unique thermosetting polymer with unique mechanical properties and resistances. Epoxies can be used as paint, adhesive, coating, flooring material, and they can also be used in electrical systems as an insulator.
100% solids
Every solvent-based epoxy is made up of two components: A binder and a solvent. The solvent is what's used to infuse different qualities like consistency and thickness into the binder (i.e. the coating). The solvent also releases volatile organic compounds (VOCs) into the environment when the coating degrades over time.
100% Solids Epoxy vs. 50% Solids Epoxy vs. Water-based Epoxy
A 100% solids epoxy is made up of 100% binder and 0% solvent, where a 50% solids epoxy is made up of 50% binder and 50% solvent. This means that you're getting less coating per unit of epoxy.
In the case of 100% solids epoxy, you only deal with a single epoxy mixture which covers more surface area. Additionally, 100% solids epoxy are often EPA compliant because they don't rely on high VOC solvents.
Some coatings don't use any solvent at all – instead, they use water to dilute the epoxy and create the proper thickness and consistency. While water-based epoxy is more eco-friendly, these types of coatings often aren't appropriate for intense industrial environments.
For this reason, we recommend 100% solids epoxy when EPA regulations are a concern in an aggressive industrial environment.
Talk with one of our industrial coating professionals today to find a product that's perfect for your asset.
100% Solids Epoxy Pros
Better for the environment due to low VOC
Durable, resistant to scratching, and resilient
Faster cure times
Non-slip and often odor-free
Chemical-resistant and stain-resistant
Rapid drying
Requires fewer coats which means faster application times
Low maintenance and long-lasting option
Aesthetically-pleasing option
100% Solids Epoxy Cons
Of course, there are a few drawbacks to 100% solid coatings.
Most notably, it's the more expensive option
Meticulous surface preparation is required
Improper installation can lead to surface flaws and peeling
Sometimes the fast dry time is not ideal for a project
Popular 100% Epoxy Products
There are some strong candidates when it comes to 100% solids epoxy. Here are some of the more popular and reliable products.
ArmorUltra ArmorTallic Metallic 100% Solids Epoxy
The ArmorUltra ArmorTallic epoxy can be used to create different finishes depending on what it's mixed with. This allows you to achieve the right aesthetics for your residential, commercial, or industrial application.
Price: $329 for a 1.5-gallon set [x]
Benefits:
Can be easily mixed to produce unique finishes
Durable and resilient
Corotech V430 100% Solids Epoxy Floor Coating


Corotech V430 can be used on previously coated or bare concrete. It provides heavy-duty protection in commercial or industrial environments.
Price: $124 for a 2 gallon mixture [x]
Benefits:
Exceedingly durable
Suitable for USDA applications
Meets LEED qualifications
E2U 100% Solids Epoxy
E2U's 100% solids epoxy can be used in applications where USDA Food & Beverage regulatory requirements have to be met. This option is ideal for pharma, food, kitchens, clean rooms, and lab flooring.
Price: $89 for a 3 gallon set
Benefits:
Nearly odorless
Chemically resistant
High color stability
Cost effective
Rust-Oleum 6500 System 100% Solids Epoxy
Rust-Oleum has an option for industrial settings – their 6500 System 100% Solids Epoxy. It requires an activator and a base unit to finish their two-part mixture.
Price: $172 for a 2-gallon set
Benefits:
Easy to apply
Low downtime
Designed for industrial settings
For More Help
For more assistance when it comes to 100% solids epoxy coatings, you should consult a trained professional. For a team with the experience and knowledge you deserve, reach out to the experts at CDN Paint.